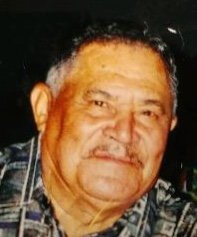 Obituary of Alfred Vargas, Sr.
Alfredo Vargas, Sr., the son of the late Mariana Roman and Miguel Vargas, was born in Lajas, Puerto Rico on December 29, 1930. He had four siblings; Neco Vargas, Miguel Vargas, and Gernado Vargas, who predeceased him, and Olga Vargas who has survived him. In 1945, he moved to the mainland via New York City. After a brief stay and various jobs, he found his way to Vineland, New Jersey, where he started work for the Vineland Kosher Poultry Company as a truck driver.
During his stay in Vineland, Alfredo met his future wife and love of his life, Emily C. Vargas (nee Casey). They were married on April 4, 1963. Their union produced one son, Alfred Vargas, Jr. The couple eventually moved to Egg Harbor City to start their life together. While in Egg Harbor, he held long-time positions with Pacemaker and Egg Harbor Yacht companies as a master carpenter. As time progressed, he eventually held his last position with the Greater Egg Harbor Regional School District in their maintenance department where he was loved among his fellow peers.
"Big Alfred," as he was affectionately known, could be found in his garden planting string beans for Emily, and fishing on the Lower Bank bridge with Emily. One time, Emily didn't throw any fish back and was adamant about keeping it all. Big Alfred was trying to persuade her to let some of them go. But then Emily said, "Alfred, that's a pan fryer!" And Big Alfred said, "Ok, Emily…"
He also enjoyed watching the ponies run at the Atlantic City Race Track. But most of all, he loved being with his wife and son, and Alfred Jr.'s two children, Alfred Vargas, III and Ava Reese Vargas, and went to "no ends" to make them happy.
Alfred is predeceased by his loving wife, Emily of 54 years, whom he asked about everyday. He is also predeceased by a son, Edward Harvey (JoAnn).
He is survived by sons, Alfred Vargas, Jr., Lucious Harvey (Ellen), and Leonard Harvey; his daughters, Margie Tennant (Bernard) and Vivian Moore (Michael); daughter-in-law, Karen Vargas; a host of grandchildren, great grandchildren and great great grandchildren.
Visitation
9:00 am - 10:00 am
Thursday, May 2, 2019
St. Paul C. M. E. Church
1410 Fairmount Avenue
Egg Harbor City, New Jersey, United States
Funeral Services
10:00 am - 11:30 am
Thursday, May 2, 2019
St. Paul C. M. E. Church
1410 Fairmount Avenue
Egg Harbor City, New Jersey, United States
Interment
11:45 am - 12:15 pm
Thursday, May 2, 2019
Egg Harbor City Cemetery
Moss Mill Road
Egg Harbor City, New Jersey, United States
609-965-0081
Share Your Memory of
Alfred
755 White Horse Pike
Atco, New Jersey 08004
Phone:(856) 336-2078
Fax: (856) 336-2098
Orlando G. Covington, Jr., Executive Director, N.J. Lic. No. 4377