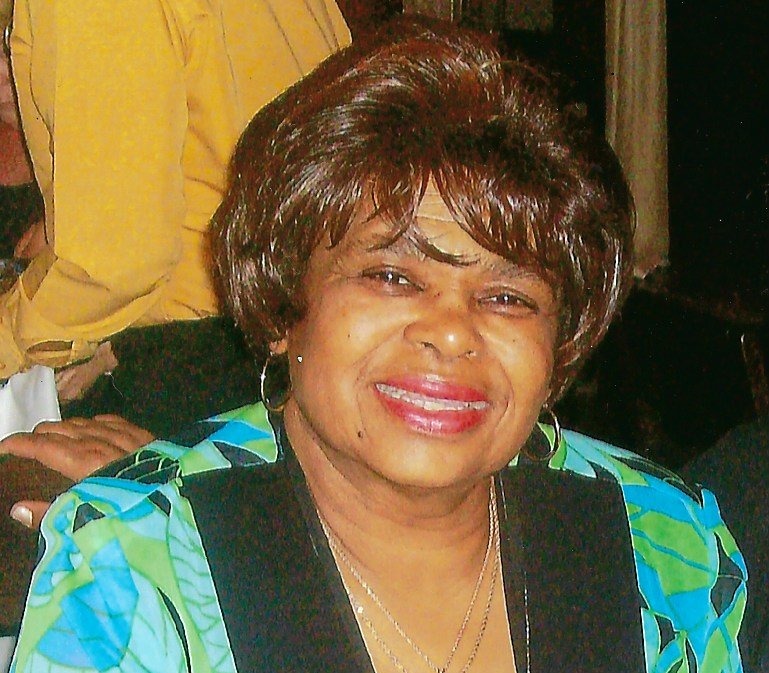 Obituary of Christine D. Hawkes-Washington
Christine D. Hawkes-Washington 74, of Egg Harbor Township, New Jersey, was called home on Sunday, June 23, 2019.

She was born August 24, 1944 in Harlem, New York, to Charles and Mary Harris. The family moved to Atlantic City in the early 1950's. Christine received her formal education in the Atlantic City public school system. She later earned some college credits and various certifications. Christine was the recipient of the Four Chaplains Award and several awards from Atlantic County Government. She had been employed as a receptionist for Dr. Donald Marshall for several years. Then her taking the civil service exam led her to employment with Atlantic County Human Resources office, NARCO as a social worker, the New Jersey Unemployment Office as a claims processor, and Atlantic County Government as an investigator in the Child Support Division.

Following Mrs. Hawkes-Washington's retirement from the Atlantic County Government after 30 years of dedicated service, she became the receptionist for the family business, Hawkes Janitorial Contractors. Additionally, she served as one of the founding board members of the radio station, Spread The Gospel Inc, /DBA WEHA Gospel 88.7 & 100.3 FM.

Her life's joy was caring for others most especially her children; William, Del-Rita and John John. Every birthday came with a celebration, and every Christmas came with gifts, festivities, and plenty of reassurance of the love she had for them. She will always be remembered for her sayings, "God don't like ugly, and He ain't to crazy about pretty!" " Because I said So!" "Tell it like it tis!" "Mommy so proud of you!" " Will you do me a favor?" Deacon Hawkes will now cherish the memory of her opening the front door when he missed his curfew to yell, "WILLLLLLLIIIIIAAAAMMMM!" During the holidays, she always made sure those who were sick or without a family had a hot Thanksgiving or Christmas meal. Although,no one could eat until her son, William, came over to bless the food there were extra gifts wrapped for unexpected guest and or visitors.

Christine accepted Jesus Christ as her personal savior, and was baptized by the late Reverend Matthew Neil. She loved Union Baptist Temple where she remained a faithful member for over 60 years. Down through the years, she served on many ministries including her beloved Golden Links and served as chaplain, the Junior Usher's Board during her youth, and in the community she was a member of the PAL Golden Circle. Furthermore, Christine had her very own phone ministry. She regularly called to encourage loved ones, often took time to chat with her Aunt Becky speaking of the old times, and always ended her phone call with, "I love you."

Christine was an avid fundraiser and donor to the United Cerebral Palsy organization, St. Judes Children's Hospital, Children's Hospital of Philadelphia, the Ronald McDonald House, and was the organizer of the annual Gospel 88.7 FM's Boscov's Friends and Family Day fundraiser.


Christine was affectionately known by her family as "Chrissy" and to friends as"mommie," as she was a mother figure to many. Mommie was very proud of her three children, her five grandchildren and her eight great-grandchildren. Moreover, she was very appreciative and grateful for the smallest of gestures they bestowed on her. She loved her babies! Mommie supported them in every endeavor by being the family's biggest cheerleader! She had her own lil' nickname for all eight of her great-grandchildren!

She loved family gatherings, holidays, and to travel. To start the last several years, she and Del-Rita took their annual cruise in January. A couple of years ago, she and her son William, took a two week cruise to Alaska. Some of the exciting vacation destinations are not limited to, but include the Hawaiian Island, Paris, France, the Caribbean Islands, and Las Vegas, Nevada.

Christine's favorite TV programs were, The Price is Right, Let's Make a Deal, The Young and Restless, I love Lucy, The Honeymooners, Steve Harvey's The Family Feud, Wheel of Fortune, Sunday Morning Glory with Ladie Prayze and Friends, and anything Madea.

Mommie's captivatingly infectious smile would light up any room and commanded joy and peace to enter in.
Christine was predeceased by her parents, Mary and Charles Harris, and her son, John-John Oatman.
She leaves to cherish memories and continue her legacy of love her two children, William Hawkes and Del-Rita Hawkes; hern daughter -in-law, Elaine Hawkes; five grandchildren, Priscilya Hawkes, William Hawkes, lll ( Jessica), Christopher Hawkes, Sr., Mark Tripp, Jr. and Joshua Tripp, Sr.; eight great grandchildren, William Hawkes, IV, Lawrence Hawkes, Christopher Hawkes, Jr., Nasir Hawkes, Tristan Hawkes, Nolan Henry, Isaiah Hawkes and Joshua Tripp, Jr.; a special aunt, Rebecca Jennings; two adopted daughters, Ava McNair and Doronda Hayes-Johnson; an adopted mother, Mother Callie Mae Gandy; and a host of cousins, other relatives and friends.


Lovingly Submitted,
The Hawkes-Washington Family
Visitation
8:00 am - 10:00 am
Saturday, July 6, 2019
Union Baptist Temple
Pennsylvania & Drexel Avenues
Atlantic City, New Jersey, United States
Funeral Services
10:00 am - 11:30 am
Saturday, July 6, 2019
Union Baptist Temple
Pennsylvania & Drexel Avenues
Atlantic City, New Jersey, United States
Interment
1:30 pm
Saturday, July 6, 2019
Laurel Memorial Park
2301 English Creek Avenue
Egg Harbor Township, New Jersey, United States