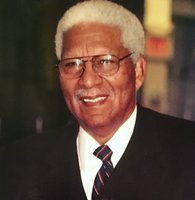 James Freeman
James Freeman, known affectionately throughout his life as "Sonny Boy" was born on October 12, 1926 in Pennsauken, New Jersey to the late Jesse J. Freeman, Sr. and Ida Bell Talbert Freeman. He departed this life after a brief illness on Saturday, December 29, 2018. He was preceded in death by his brothers Jessie Jr., Charles (Booster), Luther (who died at infancy), sisters Ethel and Gearldine.
James received his formal education in the Berlin public school system and Overbrook Regional High School piro to his enlistment in the US Navy in May 1944. While in the military, he graduated from Central High School in Columbus Ohio, and attended Diamond Institute in Pittsburgh, PA. In his late 40s he attended Camden County College in Blackwood, as an honors student.
Additionally, James had an outstanding Naval career, attaining the rank of Chief Petty Officer and retiring in 1967 after 23 years of service. He also worked for an additional 22 years as a senior official with the U.S. Department of Defense at the Philadelphia Naval Base in Philadelphia, PA, and retired in December 1989.
James loved the Lord. In his early years attended Green Grove Baptist Church in Berlin, where his father served as an Assistant Pastor. In later years, he became a member of AME Zion in Aliquippa, PA following his return to New Jersey. As well as numerous churches in the area until his health declined. He was known to quote many Bible scriptures to family members and friends until his final days.
James leaves to cherish his memory 5 children, Ronald J., (Carmen), Regina, Philip E. Sr., Phyllis and Robin; his former wife Louella; 14 grandchildren, 9 great-grandchildren; special friend Bernice Sullivan; and a host of family and friends.
Lovingly Submitted,
The Family