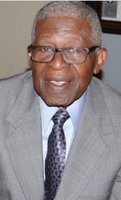 Luther Calvin Authurs
Luther Calvin Arthurs was born to William and Alma Arthurs on November 15, 1924 in Browns Town, St Ann, Jamaica; he was the fourth of 8 children between William and Alma. He also had 5 older brothers who were sons of William.
When he was a young child the family moved to St Ann's Bay. He attended St Ann's Bay Primary school and excelled in the sports of cricket and football, he was a member of their football team the Garden Raiders.
He loved jazz and formed a band in which he played the trumpet. He worked with the Jamaica Telephone Company for 18 years and moved to Kingston in the 1960's to work at the Carreras Cigarette Company in Spanish Town.
He had 2 children and 1 stepdaughter, Robert Arthurs, Doreen Arthurs, and Margaret McGrath. In 1964 he married the love of his life, Elise Rose, who after a few years migrated to the United States. He followed and migrated in 1967 and they lived in Philadelphia, Pennsylvania. They loved to celebrate the holidays and hosted many family gatherings. In 1977 they moved to Atco, New Jersey where they continued to host and welcome family and friends in their home.
He was a good baker and loved to cook. Those who have tasted his patties, Easter buns, jerk pork, and jerk chicken can attest to the savory and sweetness of his culinary art.
Luther was our patriarch, a gentlemen, charismatic, and fun loving. There was rarely a time he missed a family event or did not lend his support, and up until the time of his illness he was able to drive wherever he desired. He got sick in December 2017 and succumbed to his illness on March 23, 2018.
Preceded in death are his wife Elise, sisters Esmine, Mary, Una, Edith, Daryl, and brothers Kenneth, Ronald, Claude, Ezekiel, and Dexter. Left to cherish his memory are his 3 children, brother and sister Altamont and Linette, 9 grandchildren, 24 great grandchildren, 5 great great- grandchildren, and numerous nephews, nieces, cousins, and friends.