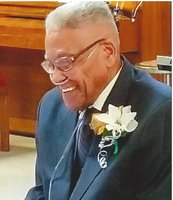 Harry L Hayes
Harry Leon Hayes was born July 17, 1937 in Chesterfield County, Virgina - the only child of Elizabeth Hayes. When he was five years old, his family moved to New York. There, he attended school and graduated from Murray Hill High School in New York.
He received Christ at the age of 12 and was baptized at Abyssinian Baptist Church by Rev. Adam Clayton Powell Sr. He continued to serve on the usher board and in other various capacities. He said he visted St. John's and fell in love with this church.
After 40 years on the job, Harry retired from Right-Way Trucking Company. He loved to drive his tractor trailers. His retirement job was driving the school van with his lovely assistant, Barbara.
Harry met the love of his life at an early age. They were neighbors, however, they both moved away from Virginia and married. Later in life, circumstances would reunite them and blend their families with many blessings for 48 years. Their household was a place where one could go for a good laugh and a serious (loud) political discussion. Harry would always remind his guests that he was a participant in the 1963 March on Washington.
He enjoyed sports, his family, friends, and CNN. After meeting Pastor Miller and joining St. John's Harry enjoyed the Praise and Worship Team and watching the Praise Dancers prepare to serve. Brother Harry was very encouraging to others in service to our Lord.
Harry was preceded in death by his son, James Hayes. He leaves to cherish his memory: his wife, Barbara;daughters, Andrea Reece-Peacock (Bernard), Cecilia Martin (John); son, Anthony Smith; grandchildren, Joffrey Reece, Brandi Peacock, and Tierra Mosley; Sister-in-laws, Carolyn, Joan, Ursul; brother-in-laws, Larry and Eugene; Aunt Hazel Harris (Henry), and a host of nieces, nephews, cousins, and great friends that he loved dearly.