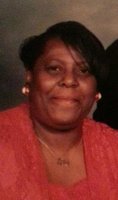 Rosalie Camper Burroughs
Rosalie Camper Burroughs, "Aunt Rose", as she was affectionately called, went to be with the Lord on February 27, 2018. She was born October 20, 1943, in Atlantic City to Winifred Bostic and Andrew Camper, Sr. Rose attended the Atlantic City public schools and Atlantic Cape Community College.
Aunt Rose was a very compassionate, loving person who loved her biological and extended families. She derived great satisfaction from being able to care for others. Her food never ran out, her money never too short, her arms were always embracing and her house always had room for one more.
Rose met and married the love of her life, James Burroughs "Pops". They loved each other dearly. This loving union would share 50 years of family, friends, co-workers and the Drum and Bugle Corp. Together they guided five generations and four name changes through many transitions; from "The Elks" to "The American Legions", to the "Imperial Knights," and finally, the "Neptune Guards". Combined, they received numerous achievement awards for their work in the community.
Rose loved to spoil kids, and we're sure she is in the Guinness Book of Records for the most godchildren.
Aunt Rose loved her Sands Hotel and Casino co-workers. They made many memories together. On New Year's Day, Pops would cook a big pot of chili to take to the Sands Casino cage cashiers.
Rose was a dedicated active member of Community Baptist Church in Atlantic City. She loved her pastor, her church, and her choir, but most of the time you could find her teaching children in Sunday School, Vacation Bible School or working with the Youth Praise Dancers.
Aunt Rose will be lovingly remembered by her son, Ronald Camper of Hawaii; her sister, Elizabeth Moss (AKA Sissy Bostic) of Atlantic City; two brothers, Lester Camper (Maxine) of Baltimore, MD, and James E. Bostic, Sr. (Shirel) of Atlantic City; her nephew, Robert Bostic of Atlantic City, who affectionately cared for her until her death; two stepchildren, James W. Burroughs, Jr. of Pennsylvania, and Jan Harper of Maryland; and a host of grandchildren, great grandchildren, nieces, nephews, and cousins.
Rose is predeceased by her husband, James W. Burroughs, Sr.; her grandmother, Bertha Warner-Steward; her mother, Winifred Bostic; her father, Andrew Camper, Sr.; daughter, Maria Camper; son, Leroy Camper; sister, Bertha Burns; three brothers, Andrew, Leroy and Dorset Camper; a cousin, Doris Warner; and a niece, Keisha Wayne.
The family extends many thanks to Royal Suites for their extensive care and kindness towards Rose.